FFFB 2023 · Why Chickens Don't Fly
FFFB 2023 · Why Chickens Don't Fly
77 Min. | DE
Sprache: OmeU | Originalsprache: deutsch
Regie: Naira Cavero Orihuel
Besetzung: Lena Schmidtke, Paula Kober, Mathilde Bundschuh
An unexpected encounter with a stranger jolts young single mother Marlene out of her unsatisfying everyday life. Fueled by the provocative dynamics of her new friend, Marlene plunges into the unknown. But in her search for freedom, fragmentary images from Marlene's childhood come to the foreground more and more often,reawakening her repressed childhood trauma.
+ Short Film The first Sunday after the First full Moon
Directed by Greta Griniūtė
Lithuania 14:58min Germany Premiere
When London-based DJ Egle returns to native Lithuania for an Easter celebration, she finds herself facing more than just the music.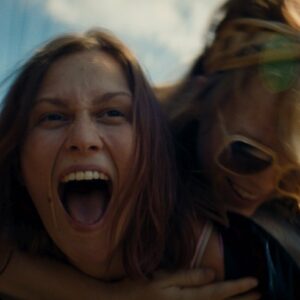 Alle Vorstellungen dieses Films
OmU = Originalversion mit Untertiteln
OV = Originalversion ohne Untertitel
OmeU = Originalversion mit englischen Untertiteln
DF = deutschsprachige Fassung